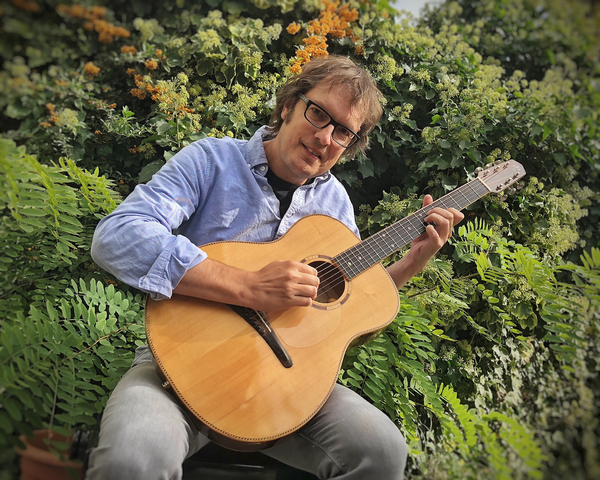 "In 2005 vroeg ik aan Gerrit van Bergeijk of hij voor mij een gitaar wilde bouwen waarop ik fijn bluegrass, folk en swing zou kunnen spelen. 'Mooi en hard', zo klonk mijn wens. En ik wilde ook graag een wat kleinere body dan het standaard western D model. Gerrit's 'Kasha' gitaar voldeed voor mij gelijk aan alle grote verwachtingen! Sinds die tijd heb ik hem overal voor gebruikt, ging hij overal mee naartoe en ben ik er steeds meer van houden.
Boom speelt op Bergejjk
Hij heeft flink op zijn lazer gehad de afgelopen 13 jaar, maar ik denk dat hij ook almaar beter en resonanter is gaan worden. Het is 'mijn' gitaar; 'Boom op een Bergeijk' en ik hoop er nog heel lang plezier van te hebben!"
Izak Boom



The Kasha
In my search for the best sounding steel string I studied the idea from Kasha and Schneider. In my opinion a lot of large dreadnoughts are much too loud in the bass and miss the fine melody notes.

Braces
The Kasha bracing brings back all the twinkling high and gives you a balance between the bass and the mid. The bracing is very complex. Instead of a simple X I use about 20 braces. Players who love swinging chords in combination with melody lines especially are very happy with this instrument. The sound is unique and captivating.

Volume
Because of the great volume this guitar gives you the opportunity to play on stage with just a microphone and without the use of any pick up, internal or external. On small stages you won't need any amplification at all! And because the bass is in balance with the rest there will be less feedback.

Boom plays Bergeijk
Dutch multi-instrumentalist Izak Boom is very happy with this instrument. He used to play good Martins in the past, but nowadays you will always see him on stage with the Kasha van Bergeijk.